Experienced Tampa Personal Injury and Car Accident Lawyers
Our No Fee Guarantee
We make it simple for you. You incur absolutely No Fees or Costs unless you win. Period. No exceptions.
15,000+ Represented
Our firm has represented over 15,000 injured as a result of someone else's negligence.
25+ Years Experience
For over 25 years our firm has been protecting the rights of injured victims throughout Florida.
Auto/Motorcycle/Falls
Our firm is focused only on injury cases including auto accidents, motorcycle accidents, slip and falls, and all serious injuries.
Experienced Injury Law Team
Our injury law team consists of 10 attorneys and 40 legal staff experienced in protecting the rights of injured victims.
What Our Clients Say*
"He answered all my questions and made me feel completely at ease. When I called, my questions were answered immediately. I never had to wait for a call back."
Lisa, Tarpon Springs
"My settlement was nearly twice the amount I anticipated and I would highly recommend his firm to anyone in need…"
Bruce, Sarasota
"They kept me in the loop by communicating with me every step of the way and offering valuable advice, which meant the world to me."
Jennifer, Palm Harbor
"Your legal team was effective at reaching the settlement amount that I requested without resorting to an expensive court proceeding at double the initial offer from the insurance company."
William, Palm Harbor
"I was extremely satisfied with the results I received from Abrahamson & Uiterwyk… I have recommended them to others without hesitation."
Marietta, Spring Hill
"The services I received from your company were exceptional. When I had questions to be answered, they were in a timely manner. The staff acted very professional and courteous. I'm very happy and pleased I chose your law firm. I'll recommend your firm to anyone."
Carlos, Brooksville
Aggressive & Prompt
We represent injured victims, not insurance companies. We push insurance companies to settle legitimate claims quickly and fairly through "prompt and aggressive representation" of our clients.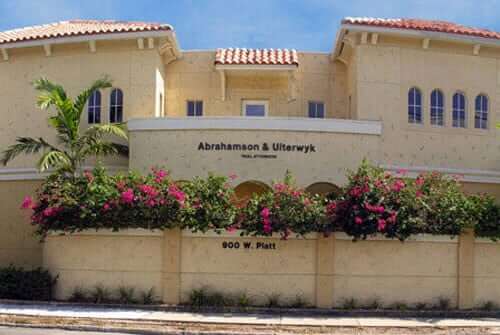 Highest Rating: Legal Ability and Ethical Standards
Our law firm is proud of its "AV" rating, the highest possible rating from Martindale-Hubbell, a national law firm rating system. The "A" signifies that the firm's legal ability is "very high to preeminent." The "V" denotes that our firm observes "very high" ethical standards.
Better Business Bureau
Our firm is an accredited business of the Better Business Bureau.
Jury Verdicts/Trial Attorneys
Other law firms frequently hire our trial attorneys for their litigation cases.
Convenience
It is not necessary for you to come to our offices. We will come to your home, office or any place that you prefer.
Free, Immediate, No Obligation
Telephone Case Evaluation available.
Call Us Today To Put Our Experienced Injury Attorneys to Work for You!