"We've been fighting to get compensation for CLEARWATER fall victims for over 25 years."
"Florida law imposes certain obligations on land-owners and businesses with regard to maintaining and repairing their premises. Our experience is that, in many circumstances, these obligations are ignored…We have extensive experience documenting and proving this negligence." Erik G. Abrahamson, Senior Partner
Why Should I Choose Abrahamson & Uiterwyk?
At Abrahamson & Uiterwyk, we have spent the last 25 years helping people just like you. Our slip-and-fall attorneys have represented over 15,000 injury victims, and while every situation is unique, we know what it takes to help victims of slips, falls, and other premises-related accidents win fair compensation. When you choose Abrahamson & Uiterwyk for your premises liability claim in Clearwater, you can feel confident knowing that:
Experience – We have a team of 10+ attorneys and 40+ professional staff members who have dedicated their careers to helping personal injury victims secure rightful compensation.
Results – The attorneys at Abrahamson & Uiterwyk have recovered hundreds of millions of dollars in compensation for accident victims and their families. This includes various multi-million-dollar awards.
Personal Attention – We give each case the personal attention it deserves. We will work closely with you to uncover the details of your claim so that we can pursue maximum compensation on your behalf.
Our Guarantee – At Abrahamson & Uiterwyk, we don't believe in charging our clients unless we get the job done. We will not charge you any costs or fees unless we help you secure financial compensation. No fee or cost unless we win.
Satisfied Clients – We are proud to have hundreds of client five-star reviews on google.
Our firm has represented over 15,000+ clients injured as a result of someone else's negligence
Our firm has obtained the highest possible rating for ethical standards and legal ability ("AV") from Martindale-Hubbell, a national law firm rating service.
We are an accredited business of the Better Business Bureau, with an A+ Rating.
We have achieved a "Best Law Firm" rating with US News and World Report.
We're focused. We limit our practice to personal injury cases.
Premises liability law is designed to protect you if you have been injured as the result of another person's negligent failure to maintain safe conditions on his or her property. Premises liability law protects guests and "invitees" (which includes shoppers, patients, clients, and others visiting commercial premises), and in some cases it even protects trespassers. To find out if you may be entitled to compensation for a slip-and-fall accident, contact our Clearwater slip and fall attorneys for a free consultation today.
What Our Clients Say
I had a trip and fall while visiting a Clearwater beach hotel. I phoned Abrahamson & Uiterwyk they sent someone to my hotel the next day which was a Sunday to talk to me. This firm communicated with me and informed me of what was happening every step of the way. I worked with Justin and Anna from the Tampa office both were professional, friendly and always quick to answer any questions I had. I believe they were thorough and always kept my best interest first and foremost.
Carl
My mom had tripped and fell causing serious injuries . . . The "A" team guided her through the legal process step by step. Unfortunately, before her case was resolved she had fallen again at a different location, I can't make this up…. She immediately contacted Abrahamson & Uiterwyk. They were easily able to differentiate the claims and resolved each claim above her expectations. I just wanted to express my family's gratitude for making this difficult time so much easier. I would highly recommend your firm to anyone who has sustained a personal injury!
Marie, Clearwater
Great experience. Did a great job handing the process and made it very easy for me. They did a good job in keeping in communication during the process as well.
Cameron, Tarpon Springs
I have had the need to use Abrahamson & Uteriwyk on two occasions. Both of which have been a positive experience. Their expertise, customer service and aggressiveness has paid off. I highly recommend them as a firm of integrity.
Tom
Tom, Largo
The work provided by this team of lawyers was very thorough and complete with regard to every detail. I would highly recommend this firm.
Steven, Indian Rocks Beach
I am very thankful I chose Abrahamson an Uiterwyk, you guys have all been great from day one. Your office did a great job communicating every step of the way. I would not hesitate to refer your organization to anyone in need of assistance. Thank you for your help and support, James
James, Dunedin
This team can be counted on to answer all of your questions and concerns. They truly care about your experience and go above and beyond to serve. Thank you Abrahamsom & Uiterwyk!
Eric, Clearwater
What can I say, other than your service is impeccable beyond expectations. In a world of uncertainty, and non-existent ethics in business, your firm shines like the brightest star reminding older consumers of yesteryear when this type of service was the norm. Thank you for being a shining example of excellence in every way.
Barbara, St. Petersburg
Very Pleasant experience. Always returned calls very quickly.. I would recommend them if you need an attorney.
Ken, Palm Harbor
I think abrahamson. & Uiterwyk are very professional! I would highly recommend this law firm to my friends. & family. Everyone I dealt with was very pleasant. I would rate this firm a 5 Star!!!!!
Maureen, Clearwater
This firm was professional and very transparent the entire time I worked with them. I would recommend them to anyone based on the interaction with both of their offices and their willingness to go above and beyond when answering questions and ensuring I was satisfied and well informed.
Michael, Tampa
What Type of Slip and Fall Cases does Abrahamson & Uiterwyk Handle?
In Florida, there is a wide range of repair and maintenance issues that can lead to slips, trips, and falls. Each case is as unique as the property on which it occurs. Securing compensation for a slip-and-fall accident requires proof that the property or business owner is to blame, and may well necessitate the need for experienced Clearwater slip and fall attorneys. The following are all common causes of slip-and-fall accidents that may entitle victims to file a premises liability claim:
Tripping on torn carpeting
Falling due to a missing or loose railing
Tripping over an abrupt change in flooring surfaces
Falling due to unsafe conditions at a swimming pool
Slipping on moss or algae-covered steps
Falling over an obstacle due to poor lighting
Slipping on an oil spill in a garage or parking lot
Stepping in an unprotected pothole
Falling down crumbling, loose, or poorly-maintained stairs
These types of issues regularly occur at:
Apartment and condo buildings
Commercial offices
Hotels and motels
Malls and retail stores
Medical offices and hospitals
Nursing homes
Parking garages
Private residences
Resorts and entertainment venues
Restaurants and bars
Other private and public facilities
While every situation is unique, our Clearwater slip and fall attorneys have been handling premises liability cases for decades. As a result, our premises liability legal team has most likely handled a case similar to yours. If we haven't, we can use the experience we've gained investigating and pursuing countless slip-and-fall cases to help you. We want you to win the compensation that you deserve.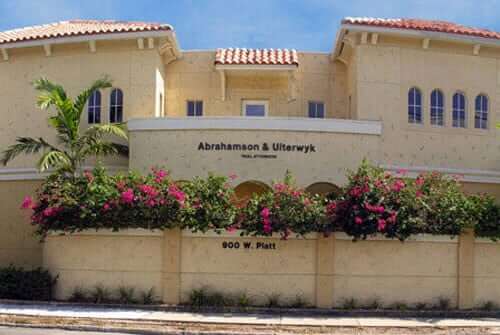 What Should I Do After a Slip, Fall, or Other Premises-Related Accident?
After a slip, fall, or other premises-related accident, there are several steps you should try to take right away to protect your legal rights. For example, you generally should:
1. Seek Prompt Medication Attention.
The most important step after any accident is to immediately seek medical attention. Your health is the most important concern, and you could have serious injuries that require prompt diagnosis and treatment.
2. Collect Evidence at the Scene of the Accident.
Provided that you are not too injured to do so, you should try to collect information at the scene of the accident that will aid in your claim for compensation. One of the easiest ways to do this is to take pictures with your phone. Take pictures of everything: The exact location where the accident occurred, the surrounding area, your injuries, any damage to your clothes or personal items, and anything else that you think might possibly be related to the cause of your injury.
If anyone saw what happened or rushed to help you, ask for their names and contact information. These individuals may be able to provide crucial testimony in support of your personal injury claim.
3. Avoid Common Mistakes.
Too often, we see cases in which accident victims have made simple, avoidable mistakes that limited their ability to seek just compensation. These include mistakes like failing to follow doctors' orders, giving recorded statements to the insurance companies, and accepting settlement checks before they know the full extent of their physical, financial, and emotional harm. We do not want to see you make these mistakes, and during your free initial consultation, we will help you understand what you need to do to protect your rights.
4. Speak with our Experienced Premises Liability Attorneys.
After seeking treatment for your injuries, it is strongly in your best interests to speak with a premises liability injury attorney as soon as possible. Our experienced premises liability lawyers will be able to quickly provide you with an initial assessment of your case, and then conduct a thorough investigation in order to determine whether you may be able to pursue a claim for financial compensation.
DO NOT WAIT! Florida law imposes stringent deadlines for pursuing compensation following a premises-related injury. In addition, the longer you wait to seek help, the more difficult it may become to recover the evidence needed to prove that the property or business owner's negligence. In short, the sooner you call, the better your chance of pursuing a successful claim.
Can I Afford the Cost of Hiring Abrahamson & Uiterwyk?
At Abrahamson & Uiterwyk, we believe that everyone should have equal access to justice – regardless of their financial circumstances. This is why we operate on a 100 percent contingency-fee basis. As a result, when you choose Abrahamson & Uiterwyk, (i) you do not have to pay anything upfront, (ii) you do not have to pay hourly rates, and (iii) you do not have to pay anything unless we help you win fair compensation.
Call Now and Put Our Experienced Fall Injury Attorneys to Work for You
At Abrahamson & Uiterwyk, we are proud of our history of successful representation, and we feel privileged to continue representing Clearwater residents in standing up for their legal rights. If you or a family member has been injured in a slip, fall, or other premises-related accident, we encourage you to contact us so that we can assist you in pursuing a claim for rightful compensation. To get started with a free, no-obligation consultation, please call (800) 753-5203 today.