Headaches After a Car Accident: Can I Get Injury Compensation?
Trusted Content
Car accidents commonly cause spine and neck injuries such as whiplash. However, victims don't necessarily experience the symptoms of these injuries immediately.
If you develop headaches or other symptoms days or even weeks after a collision, you might wonder whether you can still make a claim for compensation.
If you experience headaches after a car accident, your symptoms could indicate a serious injury that requires medical attention. You should hire an attorney as soon as possible to protect your legal right to recover compensation.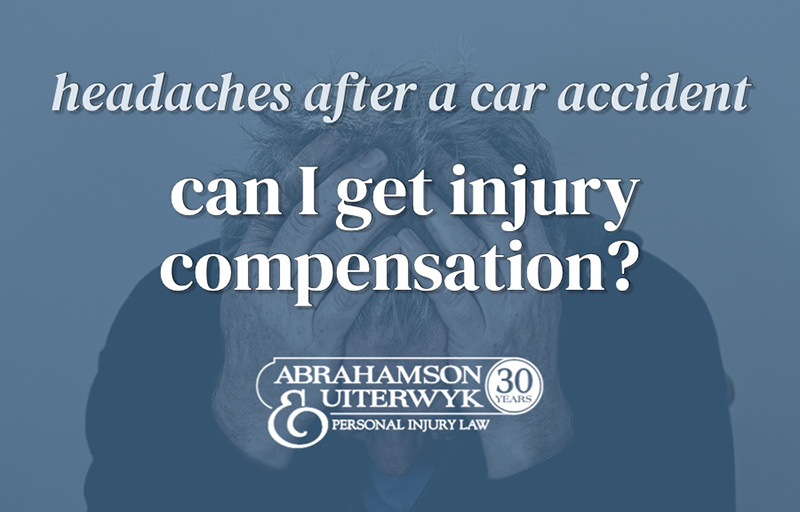 A Florida car accident lawyer can evaluate your case and explain what's necessary for you to pursue a legal claim.
---
HEADACHE AFTER A CAR ACCIDENT FAQ
What Causes Headaches After a Car Accident?
The sudden and violent nature of motor vehicle collisions can result in a variety of severe injuries. Fractures, dislocations, contusions, and lacerations are all readily visible or can be easily identified with medical testing, such as x-rays, MRIs, or CT scans.
Some other types of serious injuries are much more difficult to detect and do not show up on test even with a negative x-ray. In fact, you might not be aware of any damage until you develop symptoms such as headaches. Some of the most common causes of headache after a car accident are:
Whiplash,
Concussion,
Soft tissue damage, and
Nerve damage.
Among these potential injuries, whiplash and brain injuries pose some of the most serious threats to your future health and well-being.
---
HEADACHE AFTER A CAR ACCIDENT FAQ
Can I Seek Compensation for a Headache-Related Injury?
If another party was at fault for your car accident, you have the right to pursue compensation for your damages.
In most cases, injury accident victims can submit their claim to the at-fault party's insurance company. This requires documenting your claim and damages and then negotiating to reach an acceptable settlement offer.
If you can't obtain a reasonable settlement through the insurance company, you have the option of filing a civil lawsuit and making your case in court.
A car accident attorney can help you determine the viability of your case and explain the process through which you can recover compensation for your economic and non-economic damages.
---
HEADACHE AFTER A CAR ACCIDENT FAQ
What Is the Potential Value of My Car Accident Headache Settlement?
The potential value of your headache injury claim will depend on the details of your case. Car accident lawyers calculate the victim's physical, financial, and emotional damages to arrive at an estimated settlement value.
Because every injury accident is unique, it's not possible to identify an average car accident claim value. You might find websites that claim the ability to calculate your settlement value. Do not trust these websites. Without having all the details about your injuries and how they affect your life and future, no one can accurately estimate what your claim might be worth.
The best way to determine how much compensation you might be entitled to recover is to consult a headache injury accident lawyer. After evaluating your case, an attorney can provide you with a more accurate assessment of your claim's potential value.
---
HEADACHE AFTER A CAR ACCIDENT FAQ
What Evidence Do I Need to File a Headache Injury Claim after a Car Accident?
To build a persuasive case, car accident lawyers first obtain evidence to establish fault for the accident and liability for the victim's damages.
In some cases, establishing fault is fairly straightforward. For example, if another motorist rear-ended your car, the law almost always assigns liability to the driver who struck the other vehicle from behind. In other cases, however, your attorney may need additional evidence to establish fault and prove negligence.
Some evidence that might be necessary to support your claim includes:
Accident reports,
Witness testimony,
Accident scene photos,
Expert opinions, and
Accident scene reconstruction.
To establish the value of your damages, your attorney might use some or all of the following documentation.
Medical bills,
Wage statements, and
Vehicle repair estimates.
You may also be entitled to recover compensation for pain and suffering, emotional trauma, scarring, disfigurement, or disability.
If you cannot work because of your injuries, or if you require future treatment or ongoing care, your attorney will also consider the estimated cost of future treatment and care as well as the estimated value of future lost income and benefits.
---
HEADACHE AFTER A CAR ACCIDENT FAQ
What Should I Do After a Car Accident?
Because the risk of delayed onset injuries is so significant, personal injury lawyers recommend that accident victims seek medical attention immediately after a car crash. Even if you don't believe you were hurt., seeking a full medical evaluation is important.
If you do have a brain or soft tissue injury, seeking treatment immediately can help ensure your recovery. Having your condition documented by a qualified medical practitioner is also critical for documenting your injury claim.
If you don't see a doctor until days or weeks after an accident, the insurance company could claim that the accident wasn't the cause of your injuries, or that your injuries weren't that serious.
---
Talk to a Florida Car Accident Lawyer for Help
Talking to an experienced personal injury lawyer will help you get the answers and assistance you need. In Florida, the personal injury lawyers of Abrahamson & Uiterwyk have been providing assistance to injury accident victims for more than three decades. To help you learn more about your options for pursuing legal action, we offer a no-cost consultation and case evaluation for Florida car accident victims. Contact us today for help with your car accident headache injury claim.
---