Clearwater Personal Injury Lawyers Near You
How a Clearwater Personal Injury Attorney Can Help With Your Case
Are you considering speaking with a Clearwater injury attorney? We offer a free telephonic injury case evaluation. And you can hire us via text, email, or in-person. If you've suffered a personal injury, consulting with a Clearwater injury lawyer is the best way to protect your interests, your future, and to get you the compensation that you deserve. Whether you're seeking assistance from a Clearwater car accident attorney, Clearwater motorcycle accident lawyer, or another type of injury, we are here to help you!
Here are a few reasons to call Abrahamson & Uiterwyk Personal Injury Lawyers in Florida:
We've practiced in Clearwater for over 30 years. The sad truth is that there are more than a few personal injury law firms that pretend to be located in Clearwater, when in reality they aren't. At Abrahamson & Uiterwyk our roots run deep. We're proud to have helped generations of injured folks in Clearwater get their life back on track.
It costs you $0 up-front to retain our legal services. Like some personal injury lawyers in Clearwater, we do not require an up-front fee. Rather, we work on a contingency fee basis. This means that our fee is determined by how much money we recover for you, not how much time we spend on your case. We collect our fees after we've finished the job, not up-front.
We have earned a reputation for professional excellence. Whether it's our A+ Rating with the BBB, our "Best Law Firm" rating by U.S. News and World Report, our "AV Preeminent" Rating with Martindale-Hubbell, or hundreds of positive of Google reviews, we have earned a reputation for professional excellence in the area of personal injury law.
With over 30 years of experience, our Florida personal injury law firm has represented over 20,000 personal injury victims and we have recovered over $800 million dollars in financial compensation for our injured clients. If you've been injured, we invite you to contact our firm today for a free and immediate case evaluation.
Personal Injury Cases We've Handled
What Our Clients Say:
Over 1,000 5-star reviews.
"I am so glad I was referred to Abrahamson & Uiterwyk after my accident. From the day they came to my house for a consult to the time my settlement was finalized they were with me every step of the way. "
– Diane Snell
"Great team of professionals. The entire staff is amazing…explained the process and followed through. I recommend this law firm and would definitely use them again. "
– Jerry Hoover
"First, I want to say thank you to this incredible law firm Abrahamson & Uiterwyk for being the most caring lawyers & paralegals ever. You all are NO#1 with me. "
– Regina Kirkland-Pouncy
"Great service, great people. Answered all my questions in a timely and easy to understand manner. Would recommend to anyone looking to get answers on compensation and litigation. "
– TwiztidSkyz
"Throughout the time we worked together, everyone at your law firm was kind, patient, and supportive…I can't reiterate enough to you and your firm on how you have taken care of us. "
– Sylvia
"I was in pain and heavy medicated in ICU when I reached out to them. My paralegal Jillian Fernandez had the knowledge and patience of the best kind of person you'd want to know when your scared, unsure and in excruciating pain…I'm so thankful for my experience and would recommend them to everyone I know that needs legal representation in injury situations. "
– Lana Love
"I was involved in an auto accident but fortunately enough Abrahamson & Uiterwyk was able to represent me and help me not only with my legal case but helping through certain technical hurdles like dealing with insurance paperwork and accessing healthcare benefits. If I didn't have the help from this wonderful legal team, I don't know where I would be at this point quite frankly. "
– Pete Conway
"My wife and I originally went with another law firm to represent our daughter who was in a horrific car crash…There was a lack of communication the whole time we dealt with that law firm. When I spoke with Attorney Hoffman at Abrahamson & Uiterwyk, helping people was his main focus, not a large payout. "
– James
"I worked with this law office after being injured by a drunk driver…Communication is very important to me, and they always kept me aware of exactly where we were in the process. I would highly recommend this law office. They are very attentive, and do their very best to help you. "
– Amber Pipkin
"Fast results from beginning to end. Very helpful throughout my case even with additional personal difficulties. Everyone in the Clearwater, Fl office really did an amazing job! Thank you Abrahamson & Uiterwyk. "
– C. Roth
"I was relieved to find such a great personal injury lawyer in Clearwater! "
– Jack Hendersen
Our former clients have provided thousands of positive online reviews. Nevertheless, each case is different and prospective clients may not obtain the same or similar results. We always strive for excellent client communication and client satisfaction. We would be honored to have the opportunity to review your case.
How Our Experience Can Make a Big Difference in Our Clients' Compensation
Hiring our experienced and resourceful Clearwater injury attorneys can make all the difference in the amount of compensation injured victims in Clearwater or Pinellas County, Florida receive after a personal injury. All too often, we see firsthand how insurance companies use various tactics to take advantage of unrepresented injured victims who do not know their rights and the complexities of the law. Our highly experienced Clearwater injury attorneys at Abrahamson & Uiterwyk will strategically and aggressively fight through extensive legal negotiation and potential litigation to obtain our clients' fair and just compensation. Below are examples of actual Clearwater injury case negotiations and case results for some of our Clearwater clients. The chart illustrates the insurance company's initial offer, as well as the ultimate case result that we obtained.
| Inital Settlement Offer | Final Result | The A&U Difference |
| --- | --- | --- |
| $126,830 | $325,000 | $198,170 |
| $10,500 | $308,010 | $297,510 |
| $75,000 | $300,000 | $225,000 |
| $0 | $250,000 | $250,000 |
| $94,000 | $225,000 | $131,000 |
| $0 | $225,000 | $225,000 |
| $57,000 | $205,000 | $148,000 |
| $10,000 | $200,000 | $190,000 |
| $0 | $200,000 | $200,000 |
| $0 | $180,000 | $180,000 |
| $5,000 | $145,000 | $140,000 |
| $0 | $100,000 | $100,000 |
Recent Clearwater Car Accident Settlement Example
$100,000 / Auto Accident / Clearwater, FL
This tragic crash occurred when our client was riding his bicycle in the parking lot area of a public boat ramp in Clearwater, Florida. As he was riding, a large truck being driven by the defendant pulled out directly in front of our client. He veered to the right in an attempt to avoid colliding with the truck, however, his bicycle fell to the right as a result, and he hit the ground hard.
Our client was rushed to the hospital where x-rays revealed serious, unstable fractures in the neck. Three days after the crash, our client underwent surgery to fuse the bones of his cervical and upper thoracic spine.
Unfortunately, in this case, the negligent driver was uninsured. Our client did, however, purchase what is known as uninsured motorist coverage ("UM") UM coverage is insurance that protects you by providing compensation if you are injured by a negligent driver who is either uninsured or underinsured for your damages. In seeking compensation for our client, we were limited to the amount of insurance our client had purchased. Based on our efforts though, we were able to recover all the available UM insurance for our client.
Types of Personal Injury Cases We Handle in Clearwater
We focus our practice exclusively on the areas of personal injury and wrongful death representation. By limiting our practice to these areas, we are able to focus 100 percent of our efforts on finding new and better ways to seek maximum compensation for our injured clients. We have been handling personal injury claims in Florida for over 30 years. Below we've listed the most common personal injury cases that we see in Clearwater:
The overwhelming majority of the cases that we handle – close to 80% – involve some sort of automobile collision. This is because getting behind the wheel of a car is the most dangerous thing that people do on a regular basis. At Abrahamson & Uiterwyk, we help car crash victims in Clearwater seek to maximize their financial recoveries. With a team of more than 10 attorneys and 40 professional staff members, we provide full-service representation focused on seeking to recover the compensation to which our clients are legally entitled. We will be with you every step of the way; and, whether your case settles or goes to trial, you can rest assured knowing that you have decades of experience on your side. Our Clearwater car accident lawyers will ensure you get the care and coverage you are owed. Learn more about our Clearwater car accident lawyers here.
Motorcycle Accidents
When you're hurt in a motorcycle collision, it can be hard to know where to begin. Physical injuries, emotional devastation, and an inability to work can all wreak havoc on your life and your family's security. You may wonder if there's any way to seek compensation for your losses. Fortunately, in many cases, the answer is yes. Florida laws are meant to fairly and fully compensate motorcycle collision victims for a variety of losses. In certain cases, you're able to bring a lawsuit against another driver or other responsible party. You may be able to seek compensation for things like pain and suffering and loss of enjoyment of life as well as for medical bills and lost wages.
When other drivers aren't responsible on the road, the Clearwater motorcycle collision lawyers at Abrahamson & Uiterwyk are ready to help. Our team of specifically trained and experienced attorneys dedicate themselves to helping injured riders fight for justice. We work tirelessly to help you pursue your case in the strongest ways possible under Florida law. Learn more about our Clearwater motorcycle accident lawyers.
Commercial Truck Accidents
Semi-trucks are one of the road's most dangerous means of transportation. Weighing as much as 80,000 pounds, these massive pieces of motorized machinery can be over 20 times the weight of your car. Such dangerous vehicles call for extreme precaution, yet too often, trucking companies are more concerned with their bottom line than the safety of those on the road. Overworked, impossible demand and mile-based pay all contribute to the nearly 275,000 large truck collisions that occur every single year in the United States. If you've been the victim of such a wreck, you are probably wondering where to turn. Perhaps you've been offered an insurance settlement that doesn't even come close to covering your medical expenses. If so, we can help. Learn more about our Clearwater truck accident lawyers and how we can help you.
Slips and Falls
As a visitor on another's property, you are vulnerable. Neglected maintenance, hazards. or obstacles could result in a serious injury. While it is the owner's responsibility to protect you on his or her property, unfortunately, this does not always happen. If you've sustained an injury due to a slip & fall, picking up the pieces can be difficult. But don't be worried. You aren't alone. Our experienced Clearwater slip and fall lawyers have walked this road with thousands of individuals just like you.
Bicycle Accidents
Bicyclists don't stand a chance in on-road collisions. Whether it's from the threat of a car or a commercial truck, you are extremely vulnerable when you're on your bike. If you've been injured in a bicycle collision, don't leave your fate in the hands of an insurance company, even your own insurance company. These companies are often committed to minimizing your claim payout. They're not primarily interested in helping you. Our Clearwater bicycle accident lawyers will ensure you're properly cared for and compensated for your bicycle accident injuries.
Dog Bites
We'd like to think that dogs are man's best friend, but the truth is that serious dog attacks happen regularly. Those attacks can leave terrible scarring both physically and emotionally, and it can be hard to know where to turn in the aftermath of an attack. If you've been injured in a dog attack, the Clearwater dog bite lawyers at Abrahamson & Uiterwyk can help you get the compensation you deserve so that you can focus on your recovery and get back to your life. Learn more about Florida dog bite law.
Pedestrian Accidents
Hit by a car? You're not alone. On average, over 400 pedestrian and motor vehicle incidents take place every year in Pinellas County, part of over 7,750 pedestrian crashes statewide. For the victims of these incidents, there can be years of rehabilitation, pain, and suffering to go through, as well as dozens of doctors' visits, surgeries, and tests. The emotional, physical, and financial toll can be extreme. The last thing you want to worry about is finding sound legal advice. Fortunately, the Clearwater pedestrian injury lawyers of Abrahamson & Uiterwyk are here to guide you every step of the way. Learn more about our pedestrian accident attorneys.
Wrongful Death
Wrongful death is a legal term used to describe a situation in which someone dies due to the wrongful or negligent actions of another. Specifically, Florida law provides a right of action where a person's "wrongful act, negligence, default, or breach of contract or warranty" causes the death of another. Learn more about our Clearwater wrongful death lawyers.
Car Accident Lawyer in Clearwater
If you or a loved one has been injured in a car accident in Clearwater or the surrounding area, you might be wondering what to do next.
Dealing with the aftermath of a car accident can be a stressful and time-consuming process.
Fortunately, however, hiring an experienced Clearwater car accident attorney can often make this process feel more manageable. So how do you go about finding the right car accident law firm for you?
Finding the right car accident attorney can be difficult, especially when there are so many firms out there that are competing to take on your case.
Here are some reasons why we believe we are the right choice:
We have been helping clients throughout Florida for over 30 years;
We have collected over $800 million in compensation for deserving clients;
We have received thousands of positive reviews from past clients;
You will not pay a dime, meaning no fees or costs, for our services unless and until we win; and
We have extensive trial experience that will allow us to take your case to trial if necessary.
The Clearwater car accident lawyers at Abrahamson & Uiterwyk want to help you with your case and fight to get you the compensation you need to recover.
But if you're not quite ready to take that step, we understand. In the meantime, let us tell you generally how a Clearwater auto accident attorney near you can help you with your case.
What to Do (and What Not to Do) After a Car Accident in Clearwater, FL
In the period immediately following a personal injury from an auto accident, it's important that you take the correct steps, and avoid doing anything that might harm your claim to compensation.
Let's start with what not to do:
DON'T make any statements that could potentially be used against you. In particular, avoiding saying anything to anyone which indicates fault in a car accident or other accident. Even statements as casual as "sorry about that" or "my bad" can be used to diminish your claim.
DON'T agree to give a recorded statement to the insurance adjuster. It sounds cynical, but the plain fact is that the insurance company is not your friend. They want to pay you as little as possible. Do not give a recorded statement until speaking with an experienced Clearwater injury lawyer near you.
Here are the steps that you do want to take after a Clearwater car accident:
Attend to any injuries. Your first concern is your physical safety and well-being. If you are able, call an ambulance and ask to be taken to the emergency room if necessary. It's important to seek medical attention because many injuries like whiplash do not necessarily appear right away.
Call the police. It's always a good idea to have the police at the scene immediately after a bad traffic collision so that they can prepare an accurate report. Once the report is filed, here's how to get your Clearwater police report. If it wasn't, here's how to file a police report in Clearwater.
Get the other driver's registration and insurance information. Make sure you carefully document the name, phone number, address, drivers' license number, license plate numbers, and similar information from the other driver (or drivers) involved.
Gather the names and contact information of any witnesses. Any bystanders who saw the collision firsthand may play an important part in insurance claims or litigation.
Snap pictures of your car and the scene of the accident. If you feel up to it, taking photos of your injuries – or having someone else do so for you – can serve as evidence in a lawsuit. They can also serve as a basis for what your insurance pays if you file a claim.
Tell your insurance company about the accident. Be prompt in notifying your insurance company, as any delays can also mean delays in your compensation you might be able to receive.
Call an experienced car wreck attorney. Talk to a lawyer who focuses only on personal injury cases. Your injury claim may be worth far more than you realize.
How a Car Accident Lawyer in Clearwater, FL Can Help You
Even thinking about hiring a car accident attorney in Florida to help with your case can feel daunting. However, it is an important step in the process toward recovery.
In fact, having an attorney in your corner to help fight for your rights can often be a great asset to you and your case. Here are just a few ways in which a Clearwater accident attorney can help you.
Collecting Relevant Evidence
Frequently, the success of your car accident case will rest in large part upon the availability of evidence.
An experienced car accident lawyer will be able to help you identify and collect potentially useful evidence. Examples of evidence a lawyer can help you compile that may be useful to your case include:
Official police reports;
Medical care documentation; and
Security camera footage, where applicable.
It is important to note, however, that a lawyer can only do so much. Because you will not engage an attorney until after your accident, there are certain pieces of potential evidence that they may not be able to retrieve.
In fact, some of the best evidence for your car accident case may be most readily available right at the accident scene.
Thus, if it is possible to do so safely, you should attempt to collect the following evidence immediately after your accident:
Contact information of any parties involved in the accident;
Insurance information of any other drivers involved;
Statements from any eyewitnesses;
The name of any police officers who arrive at the scene and the police report number to more easily acquire a copy later; and
Photos of the accident scene, property damage, and any injuries.
The more evidence you are able to collect at the scene, the better equipped your auto wreck attorney will be to analyze and argue your case moving forward.
Assessing Damages
A crucial aspect of a car accident case is the calculation of damages.
Legal "damages" are the monetary sums that are awarded in a legal dispute to help a victim recover from injuries sustained due to the actions of another.
Due to the important role damages play in your recovery, it is imperative that you have someone who can help you assess what you may ultimately be entitled to.
An experienced Clearwater car accident attorney can help you do just that.
In a car accident case, you may be entitled to recover damages to help compensate you for:
Property damage,
Medical bills,
Hospital stays,
Lost wages,
Loss of earning capacity,
Emotional distress,
Disfigurement,
Disability, and
Loss of enjoyment of life.
Knowing your rights and what compensation you may be entitled to under the law is one of the main hurdles standing between you and your recovery.
You shouldn't settle for less than you deserve simply because you may not know what recoverable damages exist in your case.
Contact an attorney today to discuss your case to assess and calculate your potential compensation.
Negotiating With Insurance Companies
It's very rare that a car accident victim will get the full amount they are seeking upfront with no pushback from an insurer.
More often than not, reaching a settlement for your car accident case will require at least some negotiation.
In fact, insurance companies make their businesses off of collecting premiums and paying out as little as possible on claims.
A Clearwater car accident attorney should know how to effectively negotiate with insurers to work towards maximizing your recovery.
Negotiating with large insurance companies can be intimidating if you have no prior experience doing so.
Rest assured, the car accident lawyers at Abrahamson & Uiterwyk are prepared to aggressively negotiate with insurance companies on your behalf to help you seek the compensation you deserve.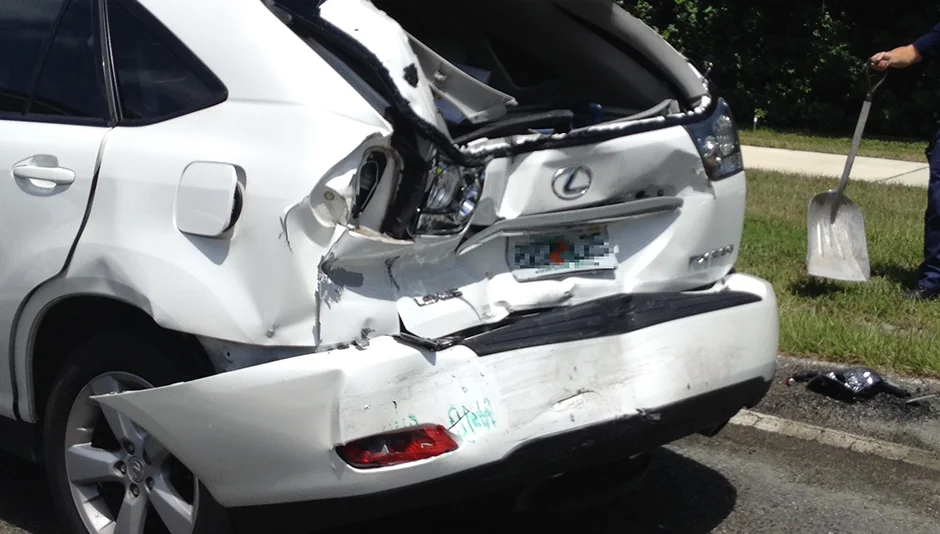 Preparing for Trial, if Necessary
While reaching an out-of-court settlement is almost always preferred, sometimes this is not possible or in your best interest. If this is the case, going to trial may become necessary to pursue your rights to the full extent of the law.
As difficult as it can be to negotiate without the assistance of a lawyer, preparing for a trial on your own can be even more daunting. Steps in preparing for a trial include:
Pretrial briefs and motions,
Discovery,
Preparation of witnesses, and
Jury selection.
The importance of having an experienced trial lawyer in your corner to help you with these steps and more cannot be overstated.
Car Crash Statistics in Clearwater / Pinellas County FL
Since you're here, you know all too well how prevalent vehicle collisions are. On average there are ~1,100 car crashes per day in Florida. That comes out to one crash every 1.3 minutes, with many of those occurring right here in Clearwater and Pinellas County.
Over the years accidents in Pinellas County have shown to be on the increase when analyzed year on year.
Commercial vehicle crashes follow similar patterns. However, nationally, thanks to increased safety measures, crashes are not causing as many injuries and fatalities as in the past.
This report found that while close to 30 percent of the crashes resulted in injuries, only about half of one percent resulted in fatalities. Unfortunately, the proportion of crashes with injuries in Pinellas County is much higher. However, the proportion of fatalities in Pinellas County crashes is comparable to national levels.
Most crashes (about 58 percent) in Pinellas County caused property damage, which is significantly lower than the 70 percent of crashes nationally, which reported property damage. It's important to contact an experienced Pinellas County car accident lawyer if you have been involved in a car accident in Pinellas County.
Whether the vehicle accident happened in Clearwater Beach, Clearwater, or the surrounding area, our attorneys are ready to help. Contact us.
What Do the Statistics Tell Us About Some Common Assumptions?
First, it should come as no surprise that the largest age group of drivers involved in Pinellas County crashes is the 65+ group. What is surprising is that the 15 to 19-year-old group is among the smallest percent of drivers in crashes thus far. Nationally, younger drivers tend to be crash more frequently than any other age group.
Pinellas's teen drivers accounted for crashes that were double their share of licensed drivers. It is important to note that this trend seems to be slowing with younger drivers being more careful and practicing defensive driving.
In Pinellas County, patterns emerge from the day of the week in terms of crashes, with the two biggest days of the week for crashes are Tuesday and Friday. Nationally, most fatal crashes occur on Saturday and Sunday when more people are probably out on the roads. They may also be more careless and the days when people will probably consume more alcohol.
When it comes to time of day,  Pinellas County crashes peak between 3.00 and 5.00 p.m.  National statistics paint a slightly different picture, with most fatal crashes occurring in the 6 p.m. to 9.00 p.m. period. It is likely that these times are simply the period when rush hour occurs. Related to the time of day is the lighting condition when the crashes happen.
In Pinellas County, a substantial majority of accidents (close to 70 percent) took place in daylight, whereas in the country, less than half the fatal crashes took place in the daylight. Contact a car wreck lawyer today if you have been injured in a car accident.
Clearwater Driving Safety Tips
Avoiding accidents alltogether is the best plan when it comes to driving in Clearwater. Most driving tickets or accidents are caused when someone is in a hurry and speeding to make an appointment, or just get home from work.  Here are a few tips to avoid the "rush" that can preceed a traffic accident:
Be aware of the speed limit and adjust your driving accordingly. This may seem obvious, but it's easy to get complacent and start driving a few miles per hour over the limit without even realizing it. Being rushed is one of the leading causes of car accidents in Florida
Avoid distractions while driving. Distracted driving is a major cause of accidents, and it can also lead to speeding. Put your phone away, avoid eating or drinking while driving, and focus on the road ahead.
Check for road closures and traffic jams before you leave. Traffic congestion can lead to frustration and temptation to speed, so it's helpful to plan your route in advance and avoid areas with known traffic problems. You can use traffic apps or websites to check for road closures and traffic conditions before you start your trip. This will help you avoid getting stuck in traffic and feeling the need to rush to make up for lost time.
Most Popular Car Insurance Companies in Clearwater, FL
The top 3 rated insurance companies in Clearwater, Florida, based on reviews on the WalletHub website are:
GAINSCO – A casualty insurance company based in Dallas, Texas, GAINSCO has the highest rating in Clearwater with a 4/5 star across 1,800+ reviews.
Direct Auto Insurance – Based in Nashville, TN, Direct Auto specializes in high-risk driver insurance. They have the second highest rating in Clearwater, FL with a 4/5 star rating on 1,800+ reviews.
Esurance – A subsidiary of Allstate, Esurance specializes in policy bundling and easy online signup and management. They have the third highest rating in Clearwater with a 3.5/5 rating across 1,600+ reviews
No matter which insurance company you go with in Clearwater – if you're in an accident, it's important ot remember to consult with an experienced car accident attorney before agreeing to any settlement or signing any paperwork.  Regardless of their rating in the area, insurance companies are notorious for lowballing initial offers. Let our team at Abrahamson & Uiterwyk help!
Average Wait Times At The Pinellas County Courthouse
When you hire Abrahamson & Uiterwyk as your attorneys, we handle everything from drafting motions to filing paperwork in the courthouse. Wait times can mean the necessity of taking full days off work to file your papers and move your case forward if you try to proceed with out an attorney.  Our team steps in so you can avoid having to deal with the court directly yourself. For an idea of waiting times for the local court for Clearwater, they are listed on the Pinellas County Clerk & Recorder website.
Contact Our Car Accident Lawyers in Clearwater Today
If you still have questions about how a Clearwater car accident lawyer can be beneficial, contact our team today.
The team of attorneys at Abrahamson & Uiterwyk has over 30 years of experience fighting for the rights of injured victims. We want to help you too.
Contact us by phone, text, or email today to schedule your free consultation to discuss your case and see what we can do for you.
Directions to Our Clearwater Office
Abrahamson & Uiterwyk Car Accident and Injury Lawyers
2639 McCormick Dr,
Clearwater, FL 33759
Fax: 727-797-0407
If you're not ready to speak with a Clearwater injury lawyer in your area just yet, no problem. Keep reading this page for information that will help you understand the next steps you ought to take, and how we can help you in the aftermath of a personal injury.
Personal Injury FAQs
Yes. Texting behind the wheel is a form of distracted driving, and it has quickly become one of the leading causes of vehicle collisions. If you believe that the driver who hit you was texting at the time of the collision, we can use this to help you seek proper financial compensation.
Some additional common forms of driver negligence include:
Driving under the influence of alcohol or drugs
Driving while fatigued (and falling asleep behind the wheel)
Merging without looking
Running red lights and stop signs
Speeding
Tailgating
Other forms of inattentive and reckless driving
Yes. While driver error is the most common cause of car collisions, there are a variety of other factors that can cause and contribute to dangerous collisions as well. Defective parts, faulty maintenance jobs, improper cargo loading, and numerous other issues can all lead to injuries that entitle victims to just compensation.
If the driver who hit you does not have insurance (or if their insurance is inadequate to cover your losses), you potentially have a few options available. These include:
Filing a claim under your personal injury protection (PIP) policy (PIP coverage is a requirement under Florida law);
Filing an uninsured/underinsured (UIM) claim with your insurer (if you purchased UIM coverage); and,
Pursuing alternate sources of financial compensation (such as a claim for a mechanical failure).
Potentially pursuing the employer of the other driver if they were working at the time of the collision.
Pursuing the owner of the vehicle if different than the driver.
Some of Our Pinellas County Client Results
We have achieved significant settlements and verdicts for people just like you. Below are a few examples of results we've fought to obtain for our Pinellas County injury clients.
Past results do not guarantee a similar outcome in your case.
$4,899,000 / MOTORCYCLE COLLISION / BRAIN INJURIES / PINELLAS COUNTY, FL
Minor male was seriously injured while riding a motorcycle with his father. The defendant changed lanes in front of the motorcycle causing the motorcycle to strike the rear of the defendant's vehicle. The minor male was thrown from the motorcycle. As a result, he sustained serious brain injuries as well as extensive damage to bones, muscles, and tendons throughout his upper body.
$1,330,000 / MOTORCYCLE COLLISION / BACK AND FRACTURED PELVIS / PINELLAS COUNTY, FL
63-year old male sustained a fractured pelvis, a right knee injury and a back injury when the defendant turned directly in front of the client while the client was on a motorcycle. The client's fractured pelvis required two surgeries. We obtained the limits of all available insurance in the case.
$1,000,000 / MOTOR VEHICLE COLLISION / PINELLAS
Client made a left turn to travel north on Carillon Parkway on a green arrow. Defendant ran the red light and t-boned the client's vehicle causing him to strike another vehicle. As a result of the collision, the client sustained a closed head brain injury.
$875,000 / MOTOR VEHICLE COLLISION / PINELLAS CO.
36-year old female was rear ended by the Defendant. Client suffered cervical and lumbar spine injuries.
$775,000 / MOTOR VEHICLE COLLISION / PINELLAS CO.
61-year old female was struck when Client was backing out of a parking space. Client suffered multilevel cervical and lumbar herniations.
$525,000 / MOTOR VEHICLE COLLISION / PINELLAS CO., FL
62-year old male was rear ended by Defendant and underwent shoulder surgery and surgical procedures to repair the client's cervical spine.
$500,000 / MOTOR VEHICLE COLLISION / HERNIATED DISC / PINELLAS COUNTY, FL
The defendant in this case turned left into our client's path causing a serious wreck. Our client suffered a herniated disc in his neck which required surgery.
More of What Our Clients Say
Clearwater, FL Case Types
Our Additional Office Locations and Areas We Serve
If you're looking for a personal injury attorney in Florida, we're ready to help you. Here are just some of the areas we serve – see our office locations here:
…and the surrounding area!
Get Help Now
The Abrahamson & Uiterwyk Attorneys and Injury Law Team
"A system of hiring an attorney on an hourly basis rewards inefficiency, creates delays and commonly creates negative issues between the lawyer and the client. Representing clients on a contingency basis in which the law firm earns a percentage of the settlement, however, is much more rewarding for the client and the injury attorneys."
– Erik Abrahamson, Injury Attorney & Partner
Meet Your Injury Law Team
Client Services Manager
Kelly Anne Kelly
As a Client Services Manager, Kelly's focus is to enhance client satisfaction by continuously looking for ways to fulfill clients' needs and concerns.