Average Wrongful Death Settlement in Florida
Wrongful death settlements depend on the facts of the specific case. The circumstances surrounding your loved one's death may be incredibly different from someone else's and settlements depend greatly on the unique circumstances of each case. According to the wrongful death settlement examples listed on this page, the typical Florida wrongful death settlement is anywhere from $1,000,000 to $35,000,000.
It's therefore incredibly important to discuss your potential wrongful death claim with an experienced attorney as soon as you can.
Overview of Wrongful Death Settlements in Florida
Here's how this article attempts to explain the factors that influence the amount that families of deceased accident victims can recover in a Florida wrongful death settlement.
If a loved one has been killed due to someone else's negligence, you may be able to prevail in a wrongful death lawsuit in Florida. If you aren't sure whether you have a wrongful death claim, you may be questioning whether to see an attorney. The truth is, an experienced wrongful death attorney can always help assess your situation to see what recovery may be possible.
If you do have a wrongful death claim, you may wish to better understand wrongful death lawsuit settlements. In this article, we'll discuss everything you need to know about wrongful death settlements in Florida.
How Long Does It Take To Settle A Wrongful Death Case?
To lose a loved one is one of the most painful experiences one can endure, for it to be a preventable accident is inexcusable. Trying to move forward can be difficult and having a wrongful death lawsuit dragging on makes this process that much harder. That is why we are often asked how long a wrongful death suit will take by loved ones who are searching not only for justice but for peace. Most wrongful death cases tend to settle within 6 months to 2 years. However, in the event that there are complicating issues, and the case requires litigation, in certain circumstances, it could take multiple years, especially if there are delays in getting a trial date, or rehearings and appeals.
Wrongful death cases can be complex and difficult. There are many factors that have to be looked at no matter what type of wrongful death case you are dealing with whether it be medical malpractice, vehicular homicide, or some other type of accident.
Some types of wrongful death cases can be fairly straightforward such as a drunk driving case where they have hit an innocent driver or pedestrian, while others can involve many different parties and the details involving the accident have to be slowly sorted out such as a medical malpractice case where the doctor, nurses, and even hospital could all be liable. Because each wrongful death case is unique it can be difficult to determine an average amount of time it will take to settle the case, however anywhere from 12 months to 3 years would be considered a normal amount of time to settle a wrongful death case. These timeframes can be significantly lessened if the parties involved agree to settle before going to trial.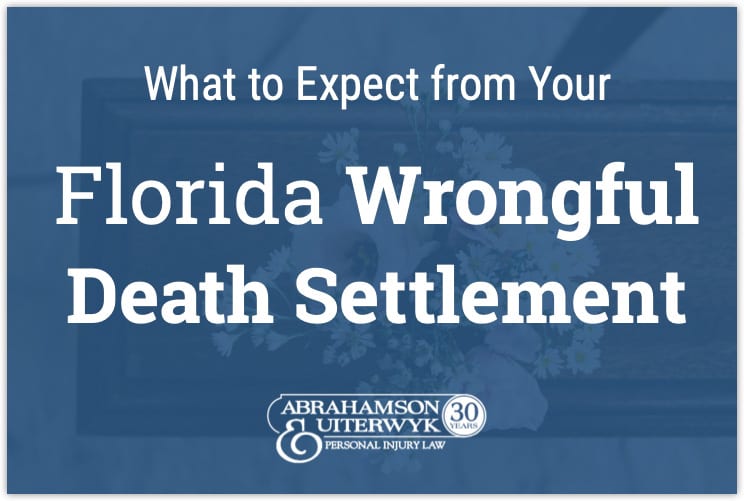 ---
Examples of Wrongful Death Settlements We've Achieved in Florida
At Abrahamson & Uiterwyk we are honored to have achieved substantial wrongful death settlements and verdicts for our clients over our 30 years in practice.
In one case, a jury awarded our clients, the surviving spouse, and children of a wrongful death victim, $34,697,465. Some other wrongful death settlement examples we've achieved are recoveries of $15,310,000 (jury verdict), $11,500,000 (jury verdict), and $11,000,000 (jury verdict) for our clients in wrongful death cases based on product liability claims.
$100,000 Policy Limit Each/Wrongful Death/2021/Car Accident
This case involved a tragic motor vehicle crash in which our clients, a retired married couple, were killed due to the carelessness of the defendant. Our clients were northbound on McMullen Booth Road in the middle lane when the defendant, who was headed south, crossed over the center median, and crashed head on into our clients' vehicle.
Our clients were both rushed to the hospital with extensive injuries. Our male client passed way at the hospital the same day as the crash. His wife unfortunately succumbed to her injuries and died about two months after the crash.
Our firm immediately initiated wrongful death claims against the defendant on behalf of our clients. Although it was a small consolation for the horrific losses that the family sustained, we were able to obtain the maximum available coverage limits from the defendant's insurance company.
---
Case Study: Florida Wrongful Death Settlement
$1M Policy Limit / Wrongful Death / Motor Vehicle Accident / Brooksville, Florida
On July 20, 2018, our client was northbound on Commercial Way in Brooksville, Florida near the intersection of Kelso Road. The defendant was headed westbound on Kelso Road, but failed to stop for the stop sign at the intersection. As a result, our client's vehicle T-boned the defendant's vehicle causing substantial damage to both vehicles.
Among other injuries, our client suffered a cardiac contusion which his treating physicians believed led to a massive stroke after the accident. He remained hospitalized for approximately two weeks after the accident before being transferred to inpatient rehabilitation.
Unfortunately, due to the serious nature of his injuries, our client passed away shortly thereafter. He was survived by his wife.
We did an in depth investigation which helped convince the insurance company that the fault lay with their insured. We presented a comprehensive demand package which also convinced the insurer that our client's spouse's death was a direct result of the defendant's negligence.
We also invested considerable time and effort elaborating on the extent and depth of our client's extreme losses as a result of the death of her spouse.
We were able to resolve the case for an amount in excess of 1 million dollars. Unfortunately, our recovery was limited by the amount of insurance available. Based on our efforts, however, we were able to convince them to pay every dollar of available insurance in settlement of the case.
Our deepest condolences to our client and their entire family. It was our honor to represent them for this tragic loss.
The wrongful death attorneys at Abrahamson & Uiterwyk have the experience to understand your case fully and get you and your family what you deserve.
You can read more on our case results page. Please be advised that any potential recovery depends upon the facts of your specific case and that past results do not guarantee a similar outcome in your case.
---
Who Can Bring a Wrongful Death Claim in Florida?
The surviving family members of a person killed by another party's negligence can bring a wrongful death claim in Florida. The person who passed away is called the "decedent" under the law. The family members of the decedent, or deceased, need to be related to them in a specific way or have had a particular dependency relationship with them to recover.
Under the Florida Wrongful Death Act, the following surviving family members may bring a wrongful death claim:
Spouse
Children
Parents
Blood relatives who were dependent on the person who passed away
Adoptive brothers or sisters who were dependent on the person who passed away
A child born out of wedlock, if their mother passed away
A child born out of wedlock if their father passed away, only if it can be established that the father had taken responsibility for supporting the child
---
What Factors Most Impact the Value of a Wrongful Death Settlement?
The goal of financial compensation in a wrongful death claim is to shift the losses that the family experiences to the person who caused the death. In other words, in the eyes of the law, the surviving family members should not bear the losses of their loved one's death. The person who negligently caused the death should be financially responsible.
To avoid going to trial, the party that caused the wrongful death may offer a settlement amount. The settlement amount should take into account the same factors that the court would take into account if the case went to trial. If the case settles, the family members of the wrongful death victim agree to drop their lawsuit.
It is very difficult, if not impossible, to calculate the value of someone's lost life.
In Florida, there are several factors that may help the surviving family members decide what is fair. Compensation in a wrongful death case may take into account the following:
How old your loved one was when they passed away
The amount of money your loved one was making at the time of death
Future potential earnings of your loved one
Lost benefits, such as health insurance or a pension
Medical expenses incurred before your loved one's death
Funeral and burial expenses
Lost spousal companionship
Loss of parental guidance
Your loved one's pain and suffering before their death
The circumstances of any family members that were dependent on your loved one
Compensation in a wrongful death case will not just be an estimate based on nothing. It will be based on the factors listed above and potentially also additional financial damages.
---
Why Are Wrongful Death Settlements Often Larger Than Other Personal Injury Claims?
Wrongful death cases often involve very significant damages to the family of the person that passed away. Although other personal injury cases can also involve significant damages, wrongful death settlements tend to be larger because of the loss of life. The family's financial expenses alone tend to be quite large.
However, wrongful death cases also take into account the loss of support and future economic benefits you experienced from the loss of your loved one.
---
Why is It Critical for Wrongful Death Plaintiffs to Hire a Lawyer?
An attorney is essential in a wrongful death suit. Although finding an attorney may be the last thing you're thinking of when your loved one passes away, finding the right one can significantly impact your legal recovery.
An attorney who specializes in wrongful death thoroughly understands the legal process. Your attorney will know precisely how to build a case on your behalf. When litigating, there are strict deadlines to meet and specific documents that need to be filed. An experienced attorney knows the process inside and out.
Hiring an attorney can also help you better understand the value of your claim. Someone who practices in this area can give you an idea of what type of compensation to expect.
While you may be grieving the death of your loved one, your attorney will be fighting on your behalf, making sure you get the best recovery possible. This will allow you to focus on time with your family as you all heal.
---
Contact an Experienced Wrongful Death Attorney to Assist in Your Claim
If you believe you have a wrongful death claim, contact one of our experienced attorneys as soon as you can. We can be there to help support and guide you through this difficult time, as well as build the best case possible.
Cities We Commonly Serve
What our clients have to say about us
"Fantastic law group.
Excellent follow up, guidance, and very professional. I would absolutely call upon this firm again if needed."
Jennifer J.
Rating 5/5 ⭐⭐⭐⭐⭐
Read more of our 320 reviews on Google