Spring Hill Personal Injury Lawyer
If you or a loved one has suffered an injury, you may be wondering what you can do.
A personal injury can turn your life upside down. Often, personal injury accidents can lead to medical expenses, lost work, and emotional trauma. Fortunately, there are things you can do to work toward recovery.
After a personal injury accident, contact a Spring Hill personal injury attorney. A Spring Hill personal injury lawyer can help you fight for your rights and work toward getting you the compensation you need to move past this difficult time.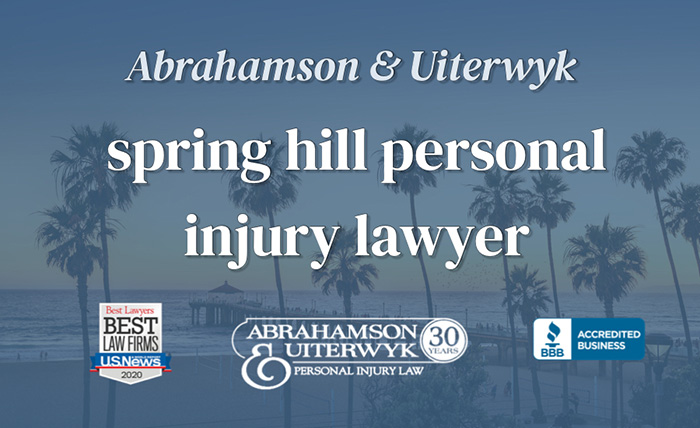 At Abrahamson & Uiterwyk, our Spring Hill personal injury attorneys work each day to help injury victims recover. So, contact us today for a free consultation to discuss your case and see what we can do for you.
Why You Should Hire Abrahamson & Uiterwyk
If you have been injured in an accident in or near Spring Hill, we want to help.
While there are many personal injury firms that will want to take your case, you deserve experienced representation to help you through such a complicated and potentially life-altering process.
At Abrahamson & Uiterwyk, we are dedicated to providing quality legal services. Here are some reasons we believe we are the personal injury firm for you.
We Are Solely Dedicated to Personal Injury and Accident Cases
Abrahamson & Uiterwyk has been representing individuals in personal injury and accident cases for over thirty years.
Many law firms take personal injury cases on the side to supplement their primary business which focuses in on other areas of the law. At Abrahamson & Uiterwyk, however, personal injury is our primary focus.
Our attorneys represent clients in personal injury cases each and every day. We have helped more than 20,000 injury victims through some of the most difficult times in their lives, and we will fight to do the same for you.
We Have A Local and National Reputation for Success
Abrahamson & Uiterwyk has been recognized by U.S. News and World Report with a "Best Law Firm" rating, an A+ Rating with the BBB, and an "AV" Rating with Martindale-Hubbell, a national law firm rating system.
At the same time, we are a truly local law firm dedicated to helping our community.
We have a strong reputation for success, both locally and nationally, and we will always continue to strive for success.
We Are Proud and Humbled to Have Received Great Feedback from Past Clients
Don't just take our word for it. We are truly honored to have received great reviews and testimonials from our former clients. While we could continue to tell you why we think we are the right choice of personal injury representation, we'll leave it to our clients. We encourage you to read some of their reviews to see if we might be a good fit for you too.
What Kinds of Cases Do Abrahamson & Uiterwyk's Spring Hill Personal Injury Lawyers Handle?
Our team of attorneys exclusively represents accident victims and their families in the Spring Hill and surrounding areas. Having represented over 20,000 clients, our attorneys have handled nearly every type of injury cases imaginable. But what exactly constitutes a personal injury case?
A personal injury case can arise in nearly any setting at any time. If you or a loved one has suffered an injury in an accident or due to the negligence of another party, you may have a valid personal injury claim.
Examples of personal injury cases that we have handled include:
Car accidents,
Motorcycle accidents,
Commercial trucking accidents,
Bicycle accidents,
Drunk driving accidents,
Slip and fall cases,
Dog bite incidents,
Premises liability cases,
Products liability cases,
Wrongful death, and
Medical malpractice.
We have recovered hundreds of millions of dollars in compensation for personal injury victims and their families. Of course, the specific facts and circumstances of a personal injury accident will vary from case to case.
However, when you hire our team, you can rest assured knowing that we have handled a wide variety of cases. We are confident that we'll be well-equipped to handle the facts and circumstances of your case too.
Will I Need to Go to Trial?
Most cases are resolved in some form of out-of-court settlement, many involving payouts from an insurance company. However, some cases do inevitably end up at trial.
We will settle your case only if that is in your best interest. If a settlement is not what is best for you, we will not hesitate to take your case to trial.
Our team of Spring Hill personal injury lawyers will be prepared to go to court. Our experienced trial attorneys have what it takes to take your case to trial, and we will fight aggressively to get you the compensation you deserve.
Factors That Impact the Amount of Your Settlement
It is important to have an idea as to what your personal injury case might be worth. While there are no reliable personal injury "settlement calculators," there are certain factors to take into consideration that may inform the value of your potential settlement.
Factors that may impact the value of your personal injury settlement include:
The extent and severity of your injuries;
Whether any injuries you sustained have impacted or disrupted your ability to continue working;
The length of time your recovery will require;
Whether you suffered any emotional or mental trauma;
Whether you were partially at fault in causing the accident; and
The existence and availability of relevant evidence to support your case.
An experienced Spring Hill personal injury lawyer can analyze your case, determine what factors exist, and help you assess what your case might be worth.
Is a Lawyer Really Necessary?
You do not necessarily need to have a Spring Hill personal injury attorney for your case. However, having one can provide you with several key advantages you would not have without an attorney.
An attorney can assist with:
Retrieving evidence to help support your case;
Contacting witnesses and obtaining witness statements;
Negotiating with opposing parties and insurance companies;
Assessing your potential damages; and
Taking your case to trial, if necessary.
An injury attorney can be an invaluable asset to your case. If you're still not sure whether your case will benefit from the assistance of a personal injury attorney, we encourage you to contact our team for a free consultation.
We can provide you with a case evaluation at no cost to you and discuss whether and how we may be able to help.
Abrahamson & Uiterwyk Case Results
We have been fighting for the rights of personal injury victims for decades. Throughout our practice, we have helped our clients get back on their feet and to get them the compensation they need and deserve.
We are proud to say that we have helped countless clients recover over $300,000,000 in valuable compensation. We encourage you to read about the case results we have achieved for clients in the past and see what types of settlements and verdicts we can help you fight to recover.
Contact a Spring Hill Personal Injury Attorney Today
If you are ready to take the next steps on your personal injury case, contact our team today. If you're not ready quite yet, we understand and know this is a big decision. Feel free to browse our website as you decide what is best for you. When you are ready to move forward, we'll be here.
At Abrahamson & Uiterwyk, we are dedicated to helping personal injury victims in need. We have made it our mission to help injury victims fight for their rights, and we are ready to do the same for you.
Contact our Spring Hill personal injury attorneys today for a free consultation and see how we can help.
FAQ
Are You Open for Business During COVID-19?
Absolutely. COVID-19 has changed a lot of things, and the legal landscape in no exception. But as the world continues to change and adapt, so will we. We have set up measures to handle cases remotely, so reach out to us at any time for your contact-free consultation to discuss your case and see how we can help.
What If I Can't Afford a Spring Hill Car Accident Lawyer?
At Abrahamson & Uiterwyk, we don't want this concern to be a problem. That's why we take accident cases on a contingency fee basis. This means that you won't pay us any fees or costs unless and until we win your case.
My Injuries Are Only Minor—Am I Still Entitled to Compensation?
Maybe so. When in doubt, contact an attorney to discuss your case and see what compensation you may be entitled to recover.
Additionally, even if you think your injuries are minor, very often, more serious injuries exist that only a medical professional can diagnose. Thus, it is important to always seek medical attention as soon as possible after your accident to help determine what injuries do exist.